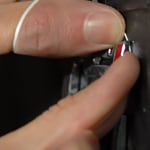 Car badges are handsome aesthetic features, but they also tend to trap debris, polish, and wax. Debadging your car prevents this unsightly outcome. How do you debadge your car without ruining the clearcoat? Our Chantilly, VA Autoline team put together a quick tutorial for your info.
Car Debadging: First Steps
It's always best to work with a clean area. Apply soapy water or exterior detailing to the badge and badge area. Clean with a microfiber cloth. Give the cleaned badge some warmth from a heat gun. Remove the badge gingerly by easing a fishing wire beneath the badging. Use a "flossing" motion, drawing the badge up and toward you.
Finishing Up
Buff away badge adhesive with the short side of a drill buffer. Using soapy water and 3,000- to 5,000-grit sandpaper, sand the badge area. Repeat the heat gun, buffing and sanding until all traces of the adhesive go away. Clean the area, apply polish and finish with a wax/sealant of your choice. Use clean, dry microfiber cloths for polishing and waxing.