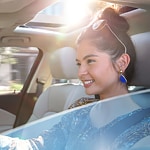 You have to make sure that your teen has a car that is safe and reliable. There are different models that come with various safety features. You will also need to consider the weight of the car. It may seem like it is best for you to get a small car for your teen. However, small cars are more likely to be damaged in an accident. A mid-sized car is the best option for your teenage driver.
Teen drivers are more likely to be distracted than other age groups. Distractions are one of the leading causes of car accidents. That is why it is important for you to select a vehicle that has hands-free options. However, it is important to note that infotainment systems can also be a distraction.
Additionally, it is important for you to select a reliable vehicle for your teen from us here at Autoline in Chantilly, VA.